\
is now, like her hero, President Spanky, blaming something else for her racist Tweet that got her worthless teevee show cancelled:
via Daily Kos:
She tweeted:
"guys I did something unforgiveable so do not defend me. It was 2 in the morning and I was ambien tweeting -- it was memorial day too -- i went 2 far & do not want it defended -- it was egregious Indefensible. I made a mistake I wish I hadn't but...don't defend it please." She cited Ambien again in a later tweet, saying, "Not giving excuses for what I did(tweeted) but I've done weird stuff while on ambien -- cracked eggs on the wall at 2am etc."
Oddly, she later deleted all of her references to the medication. Nevertheless, Ambien became the #1 trending topic on Twitter on Wednesday morning. Barr's explanation was deemed laughable.
She deleted the Ambien references after being widely mocked online. Sanofi US, the pharmaceutical company which manufactures the sleeping medication, hit back HARD.
Let's not forget this piece of racism she wrote about another African-American woman just four years ago. Barr is a disgusting racist who absolutely meant what she wrote in both Tweets. This is Trump's America, and he's made every two-bit bigot comfortable in smearing and dehumanizing African-American men and women: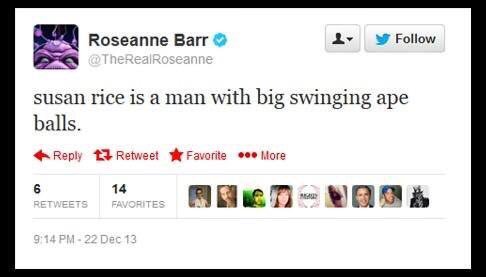 ***********************************
Sorry Roseanne, you can't blame medications for your "mistake." The reason youTweeted that pile of crap about Valerie Jarrett is not because of Ambien. The reason for the Tweet is your toxic racism that oozes from every pore in your bigoted body. You are a nasty woman, devoid of human decency and dignity.
Now get lost and stay there.
And, of course, President Spanky makes the firing of Barr about HIM!