because it wasn't planned by a Muslim.
After the horrendous Las Vegas shooting, the right wing noise machine twisted itself into pretzels trying to make a Muslim connection to the massacre. Before any facts were known, the right wing blogs and news sites were slobbering to pin the shooting on jihadists.
An attempt at an airport bombing went unnoticed because the suspect is a white American male.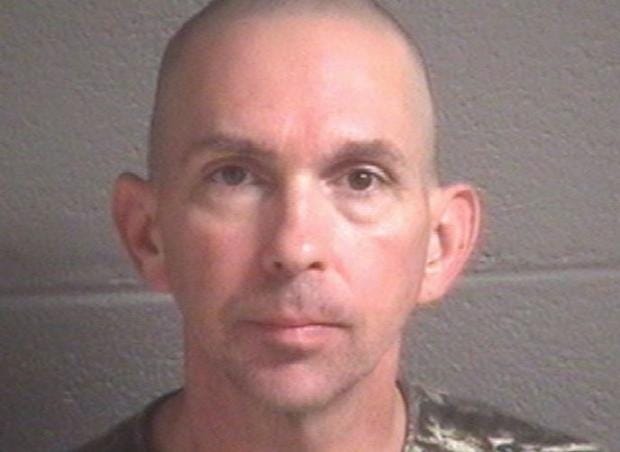 Michael Christopher Estes, attempted bomber/terrorist
From the Ashville Citizen Times
The man authorities say left an explosive device at Asheville Regional Airport on Friday morning that contained ammonium nitrate and fuel oil said he was preparing to "fight a war on U.S. soil," according to a criminal complaint filed in federal court. The suspect, Michael Christopher Estes, had his first appearance in federal court Tuesday morning. He is charged with attempted malicious use of explosive materials and unlawful possession of explosive materials in an airport.
[skip]
"Estes claimed that he was getting ready to 'fight a war on U.S. soil,' but also claimed that he did not actually set the alarm clock," the complaint states.
The complaint also states that, "Estes described how he created the device using ammonium nitrate and the Sterno as a fuel source and then rigged the alarm clock to strike the matches and cause the flame necessary to trigger the device. Estes admitted to putting the nails in the device as well."
THE AIRPORT BOMBER FROM LAST WEEK YOU NEVER HEARD ABOUT
by Shaun King
The story didn't go viral and Trump didn't tweet about it because the bomb was not placed by an immigrant, or a Muslim, or a Mexican. It was placed there by a good ol' white man, Michael Christopher Estes. Unlike the Las Vegas shooter, Stephen Paddock, whose motive is still hard to discern, Estes wanted to be very clear that his ultimate goal was to accelerate a war on American soil.
Sorry if it sounds like you've heard this story before. I'm as tired of writing it as you are reading it, but you know good and well that if Estes was a young Muslim — hell, if he had ever even visited a mosque in the past 25 years — that Trump would be tweeting about him right this very moment to tout how essential a Muslim ban is for American safety.
A Muslim attacker's mugshot would become a meme across the conservative media. Mainstream American outlets would be covering the heroic bravery of those who thwarted the terrorist plot. We'd all be seeing footage of the perpetrator being walked from the police car to the jail and from the jail to the court room. Out loud, people would talk and tweet about the man's family and friends and networks — wondering where he was radicalized, and if anyone else feels the way he does.
In this case, though? Crickets. We hear nothing at all — almost exclusively because the man who planted an improvised explosive device, just like ones that have been used to murder and maim people all over the world, was white. His guilt starts and stops with him. His actions aren't an indictment of his whole faith, political outlook, and race. White people aren't, thanks to Estes, suddenly labeled terrorists or seen as a threat to American safety in the way that would almost certainly happen had it been anybody other than a white man.
This isn't me calling for all of those things that happen to Muslims and immigrants every single day to now happen to Estes and white people all over the country. It's me saying that the fundamentally bigoted double standard by which it is done to virtually everyone except for Michael Christopher Estes and other white men has to stop.