h/t DailyKos:
Hypocritical right wingers trashed First Lady Michelle Obama because she bared her arms
...
"I guess to get millions of voters, the right has shown that all you have to do is be a bully, threaten violence and have a wife show her ass." --DailyKos
I wonder what Mrs. Trump's official photo will be if she's the next FLOTUS. She does have many dishy ones to choose from.
Mrs. Trump was a successful fashion model, and she had the right to show off all of her feminine assets as part of that job. That was what she did for a living. Good for her and the freedom she had to choose to be whatever she wanted to be.
But that's NOT what this post is about.
What this blog post is about is the hypocrisy of the Family Values Right who criticized and denigrated everything Michelle Obama wore and how she comported herself in public as America's First Lady. Now there's a possibility of having a First Lady of the United States who has many, many photos like the one below. Should she become FLOTUS, Melania Trump will be a role model for young girls and women, just like Michelle Obama became a role model for our daughters.
My Italian nonna used to say "Never spit in the wind, it'll come back and hit you in the face."
That's what this post is about. The hypocrites who savaged everything about Michelle Obama need to examine what that hatred was based on. If those hypocrites can accept Melania Trump's past as a highly paid semi-nude fashion model, they need to examine what made them lose their minds over Michelle Obama's accomplishments as a graduate of two Ivy League schools, her law degree, and her fashion choices.
I'm pretty sure it had nothing to do with Mrs. Obama's bare arms.
MELANIA TRUMP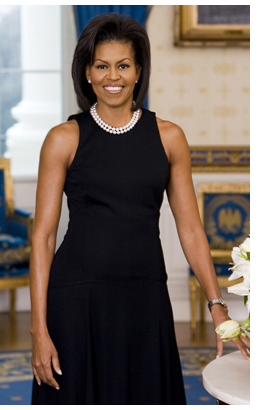 FIRST LADY MICHELLE OBAMA