Clarification of Trump's inaccurate Tweets or his pathological lying:
Here are two: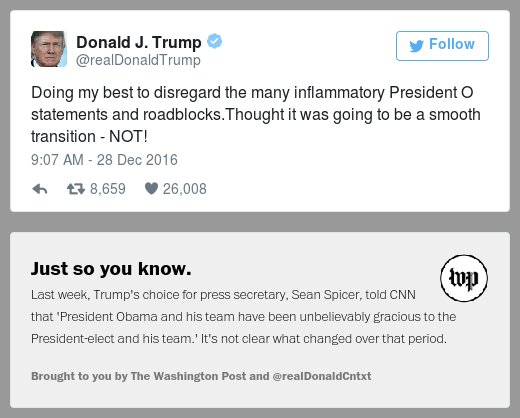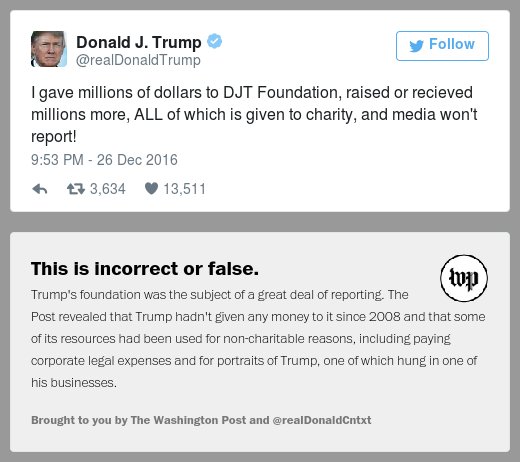 P.E. will continue to report on Trump's avalanche of inaccuracies and lies and inane pronouncements on subjects he knows nothing about.


EXAMPLE:



We've had a busy day of Trump news. I know you all want to be on top of things, so here's the latest. First, Trump was asked what he thought about Sen. Lindsey Graham's statement that sanctions were due against Russia and Vladimir Putin for their hacking during the election. Check out his reply:
"I think that computers have complicated lives very greatly. The whole age of computer has made it where nobody knows exactly what is going on. We have speed, we have a lot of other things, but I'm not sure we have the kind the security we need. But I have not spoken with the senators and I will certainly will be over a period of time."

--Donald J. Trump, Pussy-grabber-Elect and Idiot.
Here are his embarrassingly stupid remarks on an extremely serious issue during his mini-press conference. It's apparent that Trump knows NOTHING about the Israeli settlements or America's policy for the past 70 years. The country has elected a functioning illiterate as its president. His naked stupidity is a tragedy for us all: